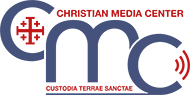 Between the 3rd and 6th of June, the General Secretariat for the Christian Youth in the Holy Land held its first camp for the working class of "Christ the Redeemer Church" in the village of Taybeh, with the participation of sixty young men and women from various parishes.
JIANA HANNA Youth of "Jesus' Homeland" "This year we have gathered from many areas. We have participants from Jerusalem, Ramallah, Bethlehem, Nablus and Zababdeh. We have also participants from Jordan. This enhances the exchange of experiences between the youth of Palestine and Jordan. This camp was marked by the presence of Fr. Ramzi Greg from Lebanon who was at the center of all our meetings."
"Time and Joy" is the title of the meeting with Father Gregg, who highlighted the meaning of true love and the salvation message of Christ in our lives. In addition, many interesting questions were raised by the participants about their presence on this land and at this time in the history of the world.
Fr. BASHAR FAWADLEH The spiritual leader of the Christian Youth in Palestine "The youths of "Jesus' Homeland" seek always in all its camps to be deeply rooted in this land, because we are the children of this land. 'Our land is holy, and we must be at the level of this holiness,' Patriarch Michel Sabbah said.
"We pray for our youth. We finished today the "Time Adventure Camp" in order to become real witnesses and prophets in this world."
RAFI GHATTAS Secretary of the Christian Youth in Palestine "We, the young men and women of the youth, are the Living Stones in this land. 'If these (people) keep silent, the stones will cry out' Jesus said. We are those stones. The working youth group is present today in the Palestinian community, influences the Palestinian society and confirm the Christian presence in this land despite the suffering from the difficult political situation that we live in."
"Manage Your Time Well" is the message of this spiritual camp, which succeeded to bring about this number of young people despite the difficult working conditions and burdens in our life, helping them to reveal themselves and search for excellence and success in life and live the "Adventure of a Life Time."