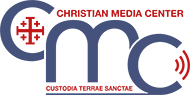 Thanks to the efforts of the Italian Alfredo Bijonjo, who developed a technology: "Voice of Mama", Caritas Baby Hospital in Bethlehem will receive this technology [the only hospital in the West Bank to do so]. The device transmits the mother's voice and vibration directly to the newborn incubator, without electromagnetic radiation.
ALFREDO BIJONJO "Voice of Mama" Inventor "The child, before being born, feels vibrations, not the sound waves of his mother. With this technology it is possible, while the child is already in the incubator, to listen to both the vibrations and the voice of his mother, through the Vibro-translation system. When the transparent rigid part of the incubator vibrates, the child inside listens to the voice of the mother."
STEPHANIE KASSIS Mother "There is a strange atmosphere around my son. However, this device helped him to sleep and rest. Before using this device, he used to cry a lot because of the sound of different tools, needles and the movement of nurses around him. This device helped me also to rest, mainly because I gave birth recently. Thank God."
The voice of the mother is the only voice that accompanies the child from the beginning of his formation and in all stages of his life. It is the voice that fills his heart with joy and peace.
WAFA MUSLEH Social worker "The mother is the source of safety for her child. The availability of this device "Voice of Mama" helps the child to relieve stress and automatically strengthen the immunity in his body and provide him with better and faster resistance to infections."
Sister LUCIA CORRADIN Director of Nursing – Caritas Baby Hospital (Bethlehem) "We were all surprised to see the impact of the recorded voice of mothers on children when they heard their mother's voice vibrating. So, we said: we want to use this device in Caritas Baby Hospital. Yes, it will take care not only of the children but also of their mothers, their emotions and feelings. It will help them not only from a medical point of view but also in whatever might happen in the lives of children and mothers."
Caritas Baby Hospital attaches great importance to comprehensive treatment. Since its founding in 1953, Caritas has been offering hope to Palestinian children regardless of their social and religious background.
ALFREDO BIJONJO "Voice of Mama" Inventor "I am very happy that they asked me for another system of the "Voice of Mama" because mothers are very happy to use it. Therefore, it will be essential to give another one."