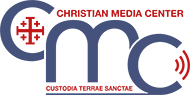 Believing in Christian values and in the universal commitment of the Catholic Church to the protection of children, the General Administration of the Latin Patriarchate Schools represented by its Director General, Br. Iyad Twal, in collaboration with the World Vision Foundation, published the "Children's Charter" on Wednesday 22nd May at the Al-Ahliyah School in Ramallah.
"Those who protect the children stand by God," says Pope Francis. The Charter aims to reduce violence, improve discipline in schools, make the school environment safe, and promote the rights and well-being of the child. It aims to strengthen the skills and abilities of all children and provide them with solid foundations in religious, moral and intellectual education.
Fr IYAD TWAL Director General of the Latin Patriarchate Schools in Palestine and Galilee "It is a way of increasing the skills and work of teachers in schools, through clear curricula, regulations, and the application of clear procedures. It represents a change in the existing mentality, and it also raises awareness of the importance of children's rights in our schools. We hope that this will help to increase the commitment of staff, parents and all the institutions working with us to carry out the mission of the Latin Patriarchate Schools, particularly in Palestine."
The World Vision Foundation launched the April Campaign called "The Month of the Palestinian Child", which also aims to raise awareness of children's rights, such as the right to education, freedom of expression and protection, as well as the right to the highest standards of medical care. More than 4,000 Palestinian children took part in this campaign in over 60 countries.
LAUREN TAYLOR Regional Director of World Vision Foundation "We follow all children, regardless of our religious orientation. In Palestine, we work with Muslims and Christians. This is one of the opportunities we have to collaborate with other Christian communities in the world, to work for change and social justice, to bring the kingdom of God into the world. Moreover, we consider this opportunity to work with the Latin Patriarchate a real gift, and we hope to be a gift for them so that we can cooperate and work together to ensure the protection of children."