The Custos of the Holy Land also arrives in Bethany, to share Iftar with the Muslim community.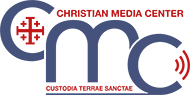 A grenade blast resonates in Jerusalem. This time it is not a sign of war but of the feast of Ramadan. Rajaie Sandoka fires twice a day from this Islamic cemetery overlooking the old city to indicate the beginning and end of fasting.
RAJAIE SANDOKA "My grandfather started over 100 years ago, and since then a member of our family has been doing this service in the month of Ramadan. I have been coming here for 30 years, at dawn and dusk, and if I can't, there's my son."
On the Fridays of Ramadan, more than 200,000 Muslims fill the esplanade of the Mosques…one of the most disputed religious sites.
At sunset, the grenade shot follows the last prayer of the muezzin…
Each family finally sits at the table for the iftar, the dinner that breaks the fasting….In addition to praying, refraining from eating, drinking and vices, Muslims during Ramadan are also invited to charity… So it is normal for iftar to become an opportunity for sharing … not only with the poorest.
The Custos of the Holy Land also arrives in Bethany, to share Iftar with the Muslim community.
Br. FRANCESCO PATTON, ofm, Custos of the Holy Land "Bethany is the home of friendship because here lived the family of Lazarus, Martha and Mary, who welcomed Jesus with great friendship, and therefore for us this place has great value as a place of welcome. That is why this initiative of Iftar is important, where Christians and Muslims together share the meal, we share a form of friendship and fraternity. As Pope Francis often reminds us, it is very important to build bridges between cultures."
The evening was organized by the Pro Terra Sancta Association and the Mosaic Center, which in Bethany are responsible for a restoration project of the complex that revolves around the tomb of Lazarus and the adjacent church, thus also contributing to the involvement of the community and the development of the local economy.
OSAMA HAMDAN, Representative Ats e Mosaic Center "My impression is that almost everyone we invited attended, no one refused to come. The fear of the other is what creates problems. When you know people, you overcome many problems, because you know that we are all equal, we are all human, and we want to live in peace: everyone has their religion but everyone prays the same God. These meetings want to break the ice, to make people know each other and to understand how we all think. We shall know what is different."
In a town mainly inhabited by Muslims, this special meeting was attended by several realities and local associations.
Doc MUSA KHATIB, Deputy Mayor of Bethany "We are very happy to be together at the same table, we looking forward to have to repeat this evening every year, to strengthen relations between Muslims and Christians. This is a message for the whole world is that we are one family, and this is a proof of coexistence between each other."