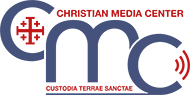 BRIGITTE BLAISE
Paris
"I met Jesus in prison. He came to knock on the door of my cell, then everything came slowly."
Brigitte arrived in the Holy Land from France: she tells us how her life has changed after three years in prison.
BRIGITTE BLAISE
Paris
"Little by little I asked myself some questions: where was God when I was younger, where was God when I was in darkness? I understood that even in the darkest darkness there is always a light and that God was there to reach out to me."
She is taking part in a very special pilgrimage, together with a group of 45 people who, like her, have experienced various forms of poverty and fragility: there are those who live on the streets, those who were taken away when they were young because their families were too poor.
BRIGITTE BLAISE
Paris
"For me God is not just a word, for me, God is a companion.
This pilgrimage will help me to bring down all the walls that are around me, whether they are physical or walls that we have within ourselves: all the walls of hatred, indifference, racism, and it will help us to continue on our way."
Br. Frédéric-Marie, a Franciscan from Paris, is in charge of the group. He was attending a doctorate in which he studied how the poor read the Gospel. He calls them "the treasure of the Church".
Br FREDERIC-MARIE LE MÉHAUTÉ, ofm
Spiritual assistant of the pilgrimage
"These people do not see places in a distant way, they do not simply say 'oh, here this episode has taken place, there that other…'. They feel in their hearts that the story we read here is a story in which they have a specific role and that this story concerns them deeply, it concerns their life, their daily life."
Organized by the network of associations "Réseau Saint Laurent" and coordinated by the French Caritas, this trip is not free: the part of expenses covered by each one of the participants is equivalent to about one pack of cigarettes per month. There are those who have been saving for 2 years, to come here. A staff of 15 people handled a complex preparation phase.
Br FRÉDÉRIC-MARIE LE MÉHAUTÉ, ofm
Spiritual assistant of the pilgrimage
"We had to prepare this pilgrimage from a very practical point of view: for example, it is very difficult for people who live on the street, and who have never taken a plane, to go to the gate, see the soldiers. They perceive it as great aggression. That's why we had to prepare them: 'We'll meet the soldiers – we told them -, there will be people who will check you, they'll touch your body, we'll go through the security checks…'. We had to explain all these things to them so that they wouldn't be afraid. This took time, a long time."
The approach to the holy places is also very particular, and slow. While the Gospel is being read, each person plays the part of a character, then shares reflections and emotions with the group. Payet plays the paralytic healed by Jesus at the probatic pool in Bethesda, just inside the walls of Jerusalem.
PAYET VONONA
Paris
"I chose this role because I too was paralysed for a period of time: not even a year ago I was in bed for four months because of a road accident. So today I came back to those moments with my mind because I was freed too. Thanks to the passage of Jesus on our earth, the sick are saved. The plan to come to Jerusalem was conceived before the accident: and this is precisely what I said to myself in my head: "I need to go to Jerusalem, I need to get back on my feet!"
What these pilgrims, who came to the Holy Land as poor people to discover a history of rebirth and liberation, will take with them to France remains a mystery.
Br FRÉDÉRIC-MARIE LE MÉHAUTÉ, ofm
Spiritual assistant of the pilgrimage
"I really don't know what they understand. I just know that they won't understand all of this the way I do."