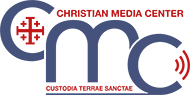 BADI'A ATIK Nazareth "This feast moved our feelings. It makes the heart overwhelmed with joy because the blessed Virgin Mary, the Lady of Palestine, queen of heaven and earth, unites us. She recuperates our emotional and national feelings and compensates for the pain we are living here in the Holy Land."
Yes, we are the children of the Holy Land, at the forefront of those who cherish the fact that the Virgin Mary is the Queen of Palestine. She has given our country honor and dignity! The feast of our blessed Lady of Palestine gathered hundreds of Christians from the Holy Land in a solemn popular celebration on the 27th of October. The Mass was presided by the Archbishop Pierbattista Pizzabala, the Apostolic Administrator of the Latin Patriarchate of Jerusalem at the Shrine of the Monastery of Rafat, built in 1927 in honor of the Virgin Mary, the patron saint of Palestine.
HE Mgr PIERBATTISTA PIZZABALLA, ofm Apostolic Administrator of the Latin Patriarchate of Jerusalem "The only occasion where are all the Christians from the North and the South can be gathered is here in Deir Rafat for the Queen of Palestine, our Mother. Like in every family we are gathered when the mother is present. Also today although the difficult political situation we managed to be together but because of our Mother, the Queen of Palestine."
RAFI GHATTAS General Secretary of the Youth of Jesus' Homeland Palestine "Celebrating the feast of the Virgin Mary, while we suffer from economic and political difficulties, gives us peace. The Virgin Mary with her right hand extended gives us the gift of peace and blessing. As we see in the icon and the statue of the Lady of Palestine, She gives us peace and serenity from her right hand and invites us to carry the cross, because the resurrection is coming." While the "Shepherds Choir" was singing "Peace be with You," the faithful carried the statue of the Virgin on their shoulders and marched in a long procession around the sanctuary of Our Lady of Palestine reciting the Rosary, and seeking her maternal intercession and affection. "Here we stand before you with full confidence in your infinite capability."
BADI'A ATIK Nazareth "We feel that heaven will not leave us alone, there are times when the Lord compensates. We as a people we should accept this message and hold it firmly. We feel that the Virgin will not leave us alone. She loves us and we love Her so much."
A couple from France have been coming to attend this celebration for decades. They are like the unknown soldier. They make all the necessary arrangements, cleaning, preparations for the celebration and cooking food along with the students of the seminary and the monastic community of Bethlehem.
BRIGITTE REMY France "It is the Church gathered in this place: for us it is very important. All the different communities make one Church. It's very special here because people come from all over the world, from Palestine: Bethlhem, Beit Jala, from the territory, they also come from Jerusalem, from Nazareth. It's a feeling of being one people."
SERGIO REMY France "Have confidence in the Virgin. Today is the feast of Our Lady of Palestine: we must believe in her power, we must keep confidence despite the difficult political situation."