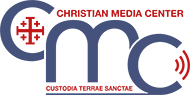 December 04, 2019
MANAR BADER
"Our story is not just our story… we are not just two friends…it is the story about the city of Jerusalem."
MANAR BADER
"Only if we meet, only if we get to know each other, everything is possible. We decided to make this happen… we decided to make it possible."
Manar is an Arab Muslim girl from East Jerusalem. Lior is a young Jewish girl from Tel Aviv. First and foremost, they are friends… to tell the truth, they are best friends.
The complicated socio-political situation of this Earth remains, but to shorten the distances there has always been the desire to help each other to learn the language of the other, ever since they went to university.
LIOR URIAN
"She had a dream. She said… in a bad Jewish, sorry… "I have a dream, I want to be a lawyer in Israel". "How are you going to do that? – I said to her – You have to study in Hebrew a whole degree in university, good luck!".
MANAR BADER
"Lior believed in me, and she helped me all the time."
LIOR URIAN
"Next month she's going to take his bar exam… today Manar has made her dream happens."
And then came the idea that other women could have a similar experience. A post on Facebook that simply suggested a meet up to talk drew, a bit surprisingly, the attention of 250 women. Today, after two years, there are 700 of them: each one teaches her own language and learns the language of the others.
MANAR BADER
"In these meetings, everyone is a teacher and everyone is a student. We are not in a class like at school, we do not teach "alef, bet" – or "alef, be" in Arabic -…we just talk."
To open the doors for the first meetings, a restaurant in the center of the old city of Jerusalem…
YOUSEF SHAHEEN
General Manager Restaurant "Panoramic Golden City" – Old City of Jerusalem
"I really like this project, I immediately made this place available because I wanted to support it. The goal is not to make a profit, but to make sure that this idea grows more and more because it brings benefits to both parties. Clearly, peace will not come soon, but peaceful coexistence is possible."
LIOR URIAN
"They come from all over the territory surrounding Jerusalem, and they belong to different groups: they are Jewish, Christian, Muslim, secular, religious, right-wing, left-wing, of all ages…. I think that beyond the facts I have known the stories of individuals, trying to understand how they feel. It's like we live in two different spheres, but in the same city so…thanks for that."
The wide participation has led to the creation of a group of 10 volunteers who take care of the organization.
SUZAN SAYYAD
"We help people learn the other language for free. This opens up new perspectives in study and work."
HAMUTAL COHEN
"I live in Jerusalem, I study Comparative Religions at the university, I have just begun the second year of my Master's degree: I study the Middle East and in particular Christianity in the Middle East, which is why it is very important for me to know Arabic."
Even in creating this project, Lior and Manar's decision was clear.
MANAR BADER
"We wanted to allow other women to become like us… not to remain strangers, but friends."