August 30, 2015 – For the past three years residents of Nabi Saleh, a small Palestinian village near Ramallah, have held weekkly demonstrations to protest the confiscation of the village's lands and the takeover of their spring by the nearby Jewish settlement, Halamish. The protest on Friday, August 28, saw peaceful marchers chanting as well as youths hurling rocks. When the forces  sought to arrest protesters for hurling rocks in their direction, a solider (rumored to be a Zionist with French nationality) went after an 11-year-old boy, whose arm was in a cast. He had the screaming child in a choke hold. The youngster's sister, mother, and others came to his aid beating the soldier and even, in the case of the boy's sister, biting the soldier in an attempt to gain his release. Eventually the commanding Israeli officer gave the order to halt the arrest.
Below are still shots of the capture of the child and finally (scroll down) a video of the demonstration and more commentary: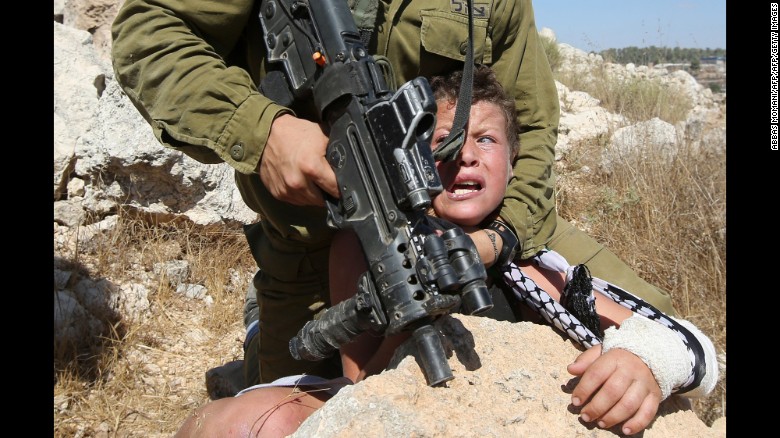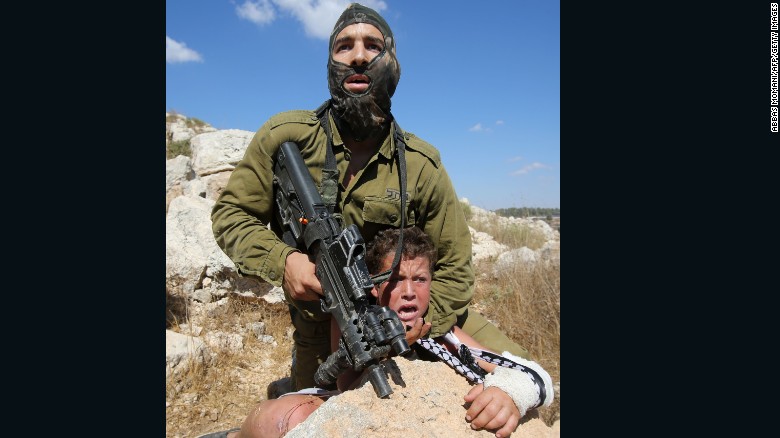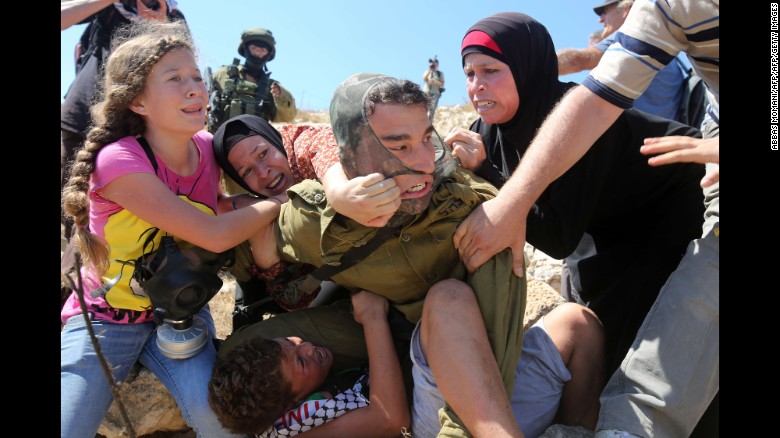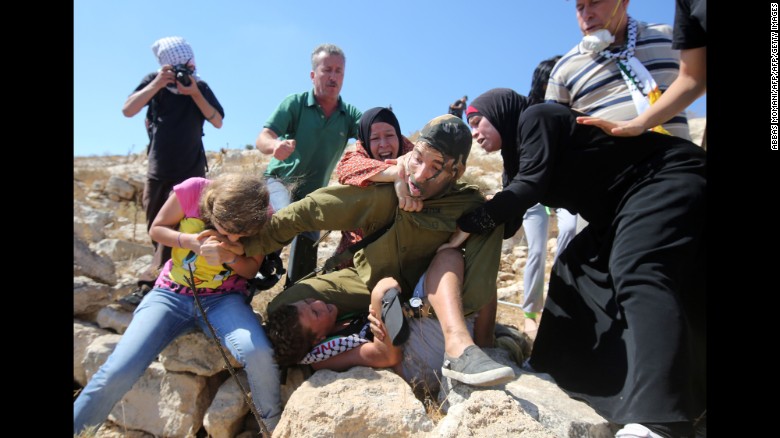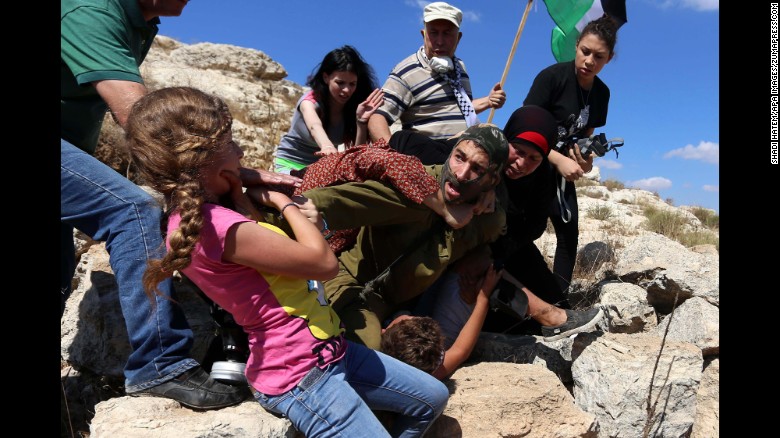 Video of the Demonstration on August 28, 2015
Weekly protests are held in Nabi Saleh
The village al-Nabi Saleh is located not far from Ramallah in the occupied West Bank. It is named in honor of a prophet (Nabi means prophet in both Arabic and Hebrew) who lived before the time of Muhammad and is said to be buried there. His extensive tomb is the pride of the 550 inhabitants.
Al-Nabi Saleh is build on the remains of a crusader outpost, which in its turn was built on the remains of a Byzantine village. Its history probably goes back to ancient Canaanite times. I believe that the population of these villages has never changed – they just changed their religion and culture according to the powers that be. They were in turn Canaanites, Judaeans, Greeks, Romans, Byzantines and finally Arabs.
The latest occupation (until now) is the Israeli. These new occupiers have no interest in converting the locals. They just want to take their land, and, if possible, induce them to go away. On part of the lands of Nabi Saleh an Israeli settlement called Halamish ("flint") was set up.
The conflict between the village and its new "neighbors" started immediately. Between them is an ancient well, which the settlers have renovated and claim as their own. The village is not ready to give it up.
Like in many other villages in the area, such as Bil'in, on every Friday, right after the prayers in the mosque, a demonstration against the occupation and the settlers takes place. A few Israeli peace activists and international volunteers take part in them. The demonstrators are generally non-violent, but on the fringes teen-agers and children often throw stones. The soldiers shoot rubber-covered steel bullets, tear gas and stun grenades, and sometime live bullets.
Uri Avnery