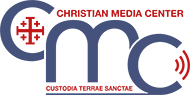 The book "Like a Breath", which describes the spiritual journey of Luisa Jaques, known as Sister Mary of the Trinity, Poor Clare of Jerusalem, was presented at the Monastery of the Poor Clares in Jerusalem. A biography, but also a meditation arranged according to themes of the vast patrimony of faith and spirituality that Sister Mary of the Trinity left behind, above all through the "Inner Colloquium": that is, the transcription, already published in the middle of the last century and translated into 10 languages, of the words that Sister Mary of the Trinity heard during the years spent in Jerusalem spoken directly by Jesus, particularly after having received communion. Selim Sayegh, Patriarchal Vicar Emeritus for Jordan, is the author of "Come un respiro", and Father Pier Giorgio Gianazza translated the book, published by Edizioni Terra Santa, into Italian.
GIUSEPPE CAFFULLI, Director Edizioni Terra Santa "What can we bring home today from reading "Come un respiro"? We can get closer to the figure of Sister Mary of the Trinity, we can get to know her spirituality better, and we can above all bring home a spiritual benefit for our lives too, because it brings us closer to what is an intimate presence of Jesus in her life."
Among the central topics addressed in the volume is the "vow of the victim" made by Sister Mary of the Trinity. Sayegh explains: "This is not a negative concept, but rather the constant willingness to give oneself to the Lord, continually renewed at the time of the elevation of the Hostia (consecrated Host) during the Holy Mass".
Mother MARIA CHIARA BOSCO,Abbess of the Convent of the Poor Clares in Jerusalem "The process of canonization has never been initiated. There has always been a small process to begin it; unfortunately, there has never been continuity, so it has always been interrupted. Now the solicitations are multiplying. I think it's a voice that needs to be heard: when the time is right we still don't know, we can't say it now."
For now, one thing is certain, says Sister Mary Clare: with her silent style, Sister Mary of the Trinity is already making friends all over the world.