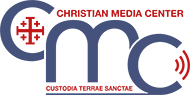 Beit Einun is a Palestinian village located in the south of the West Bank and north of Hebron. It encompasses three ancient archaeological churches, one of which dates back to the Byzantine period and is considered one of the most important and largest church that served the Christian population in the early fifth century in that region.
Br. EUGENIO ALLIATA, ofm Studium Biblicum Franciscanum "The place where we are looking is called "Beit Einun", and its biblical name "Bette Anoth" was according to the Gospel, the place where John the Baptist used to baptize."
The size of the church is about 1000 square meters. This demonstrate the importance of the Christian cultural heritage in that region. The construction of the church and its scattered columns, cisterns, apses and living quarters, shows that the church is from the Byzantine period.
Br. EUGENIO ALLIATA, ofm Studium Biblicum Franciscanum "The first church was built in the fifth century. It survived for nearly 300 years. Excavations revealed that rebuilding of the church lasted until the eighth century. The church was colossal, and we can see parts of the three apses which were closed with marble doors; the ruins of the altar; columns; a mosaic floor, and the foundation of columns that adorned the monumental building. This is a sign of the continued presence of Christians in the region."
The church was used as a watchtower before the Byzantine period due to its strategic location on the road connecting the cities of Bethlehem and Hebron. It was also used as a fortress during the Crusader period after fortifying its walls and elevating its floor. The excavations showed two layers of a magnificent mosaics; a carpet measuring 5.70 X 4.20 meters. Its frame consists of a red strip and some of its edges are decorated with diamonds.
DANIELLA MASSARA Custody of the Holy Land "In the first phase, the mosaic was geometrically decorated, sober with some dedicatory inscription. In the second phase, all pavements were re-made with polychrome and various decorations. We do not know how they were made originally, because at the beginning of the eighth century, probably due to the iconoclast period, the original figures were destroyed and re-made with geometric or plant motifs."