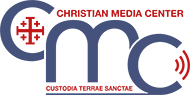 Since 1973 the Christian Information Center offers a steady service to pilgrims. On Monday, October 15, the blessing of the building in a whole new look, took place. Pilgrims, and also the many tourists who flock to Jerusalem will be able to enjoy the first stages of a multimedia exhibition by way of modern technology.
Fr. TOMASZ FRANCISZEK DUBIEL, ofm Director of the Christian Information Center
We thank God for the restoration work of the building that has just been completed, and we hope that soon we will be able to show the first stages of our exhibition.
Three stages will soon be admired: A hologram of the Holy City that will lead the pilgrims to "see" the Jerusalem of Jesus' time and the path he travelled during his passion; a room dedicated to the Basilica of the Holy Sepulcher; and finally a room with the hypothesis of how the Sepulcher of Christ should have appeared.
Fr. FRANCESCO PATTON, ofm Custos of the Holy Land
The aim is that pilgrims coming here can experience with greater awareness their pilgrimage to the Holy Places, especially in the Basilica of the Holy Sepulchre. And I alsoope that many non-pilgrims come to visit these rooms, especially students from the schools of Jerusalem; welcoming Muslim, Jewish and Christian children who will come to learn a piece of Jerusalem's history. At the service of the geography of Salvation;
"May this place – as emphasized by the Custos of the Holy Land in his speech – be a place that facilitates pilgrimage and consequently facilitate the Pilgrim's experience of faith"
So now, you just have to wait for the official opening …