by Eloise Blondiau, America, the Jesuit Review | January 31, 2017
Last week was a momentous week in U.S. politics. President Trump signed several executive orders pertaining to immigration and refugees, and tens of thousands of people around the country gathered to protest these measures. Plus, on Friday, the annual March for Life took place in Washington, D.C., with a sitting vice president addressing the crowd for the first time.
We asked America readers if these current events were discussed during Mass on Sunday Jan. 29.
The overwhelming response to the survey was that these political issues were not discussed at all by homilists and congregants were left wanting. Eighty percent of poll respondents agreed that not enough was done in their parishes to address the ongoing political upheaval. Meanwhile only 1 percent wrote that current events were given too much consideration during Mass.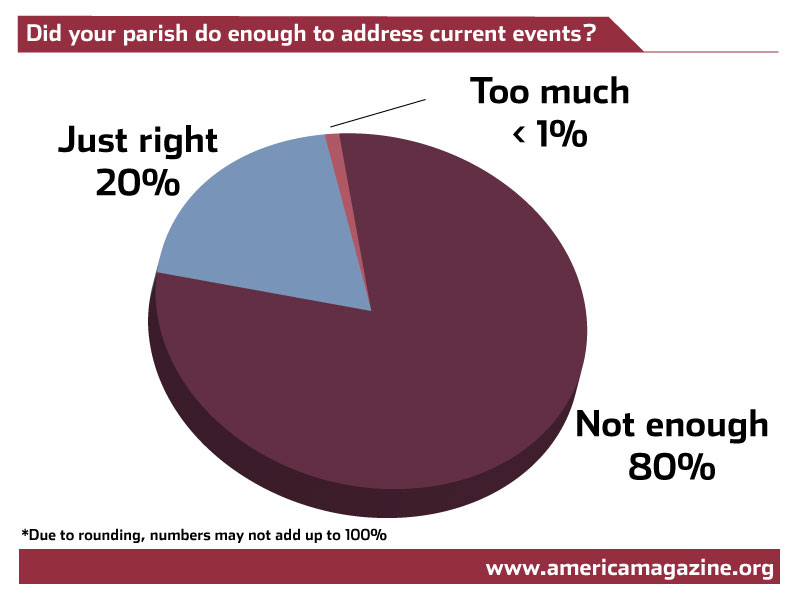 Of the dissatisfied majority, many respondents mentioned that their parish priests were capable of thoughtful homilies, but wished that these homilies spoke more directly to their practical lives. Joshua L. from Kirkland, Wash., expressed disappointment that immigration and the refugee crisis were not discussed. "Don't get me wrong, our parish priest is an excellent homilist, but I was frustrated that the opportunity to affirm our faith in the face of injustice was lost." Elizabeth Reed from Costa Mesa, Ca., reiterated this point in the context of her own parish's demographics: "We have a somewhat divided parish as the church family is composed of a very large immigrant population and the parish school is predominantly Caucasian and upper middle class…. I think yesterday was a missed opportunity for connection."
Also from California, Mayra Torres is a Catholic undocumented immigrant who experienced the devastating impact of this missed opportunity first hand. She wrote to us about how the silence of her parish is contributing to divisions in her community. "I feel alienated from my church, and I feel threatened by the present administration…. As a catequista I am questioning whether I should be serving and teaching my faith. I feel abandoned, not by God but by church leaders."
This sense of abandonment was not felt in all parishes. At 20 percent, a low but not inconsiderable number of readers felt their parish adequately addressed current events during Mass. An anonymous reader from Washington, D.C., described a Mass that spoke directly to pro-life commitments and to the executive orders on immigration and refugees: "Our parish prayed in a special way for a refugee family that we are sponsoring… Our prayers of the faithful included a prayer that we uphold the dignity of all human life, including the elderly, the unborn, refugees, and immigrants. I am proud to be part of a parish that demonstrates its commitment to minister to those at the margins."
Talking about politics is always a fraught matter, perhaps especially from the pulpit. Many homilists are, as they should be, wary of expressing partisan opinions and dividing communities with too much political talk. But this much is clear: silence is not conducive to solidarity, either.
Originally posted at http://www.americamagazine.org/politics-society/2017/01/31/opportunity-lost-what-catholics-actually-wanted-hear-mass-last-weekend