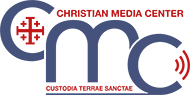 Until today, the route taken by Jesus to Calvary was marked by metal discs and Roman numerals. Now, next to them, it will be the strength and emotion of the sculpture that will describe each station of the Way of the Cross in Jerusalem. The new bronze sculptures representing the first nine stages of the Passion have been inaugurated along the Via Dolorosa (the remaining five will be placed in the Franciscan chapel inside the Holy Sepulchre). The primary objective is to allow the millions of pilgrims who travel through it to go back in time for a moment, up to two thousand years ago.
ALESSANDRO MUTTO Artist, author of the new Way of the Cross in Jerusalem
"I've been trying to make some very realistic tiles. I tried to identify myself with the characters and their movements, and to use the facial expression a lot. The idea was to become a spectator from 2000 years ago, and to see these scenes as if I was passing by randomly."
ROBERTO BRIZZI Owner of the artistic foundry BMN Arte di Verona
"I thought it would be nice, since there was no television and no photographs, to create what people have always seen in their imagination: we just created what an ordinary person would have seen."
While retracing the Way of the Cross together with the friars of the Custody and the Custos of the Holy Land, Friar Francesco Patton, the new tiles were unveiled by the Apostolic Nuncio, Mgr Leopoldo Girelli. The relationship of these works with Rome is also strong since before coming here the panels received the blessing of Pope Francis in the Vatican.
Br IBRAHIM FALTAS, ofm Custody of the Holy Land
"To do such a thing in Jerusalem at this moment has a great meaning: today we could truly feel that the Christians of Jerusalem still exist. Today is a special day for everyone: a special day for the Custody, a special day for the local Christians of Jerusalem, and it is a special day for all the pilgrims of the world who will come to Jerusalem to follow the Way of the Cross."