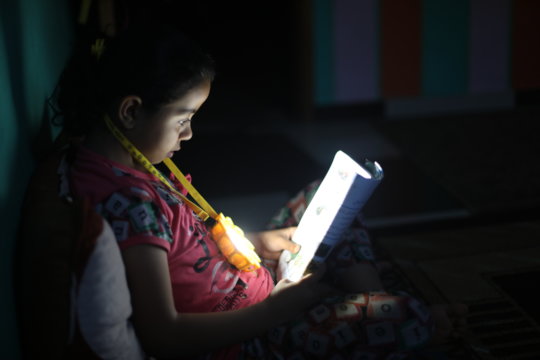 Donna Baranski-Walker, Founder & Executive Director, Rebuilding Alliance, writes:
Recently, the Gaza Power Plant entirely shut down, leaving 1.2 million people in total darkness, and this isn't the first time. I am writing to ask your help because your action now can give Gaza's children light and hope.
Please give now to send solar-powered Luci Lights to children in Gaza so they can do their homework and play at night.
Why now? From now until May 25th, GlobalGiving is providing a Renewable Energy Match for Brighten the Future of Gaza's Children! Online donations are being matched by 60% up to a maximum of $1400 for each unique donor. That means that each donation of $100 will raise an extra $60.
So far, Rebuilding Alliance has sent nearly 6000 Luci Lights through the blockade, directly to Palestinian Non-Governmental Organizations in Gaza who deliver them to children and families in dire need.
With your help, we can send even more. Here's how:  
If you and 33 others each create you own Giving Page to raise $1000 from friends and family, we'll raise $20,000 more! This means, we could send 6750 children their own Luci Lights!   This is a bold — doable — goal. Please begin:
Click now to Start a Fundraiser;
Name your fundraiser for someone you love or for your school or peace group;
Choose the kind of fundraiser you want;
Now choose the project:   Just put the word 'Brighten' in the search box to go to 'Brighten the Future of Gaza's Children';
Click 'Add to fundraiser' to make this the project for your fundraiser;
Now, click 'Your fundraiser page';
Write a paragraph about why you care and note that donations will be matched by 60%.   Set your monetary goal at $1000, and click 'Save'.
Those 7 steps will launch your new fundraising page. To reach $1000, make your first donation, then send the link to friends and family asking them to give too. If your friends will give at $10 apiece, send it to 100 friends and 20 more for good luck. If they are likely to give at $100 each, ask 10 and two more for good luck.
Here's a page I made, just as an example: In memory of Dr. Eyad El Sarraj
Dr. Eyad in Gaza always believed in Gaza and always believed in our work. He never gave up and because he believed in me, I can't give up either.  He knew we would persevere.
I believe in you. Let's do this.

Sincerely,

Donna Baranski-Walker
Founder & Executive Director, Rebuilding Alliance